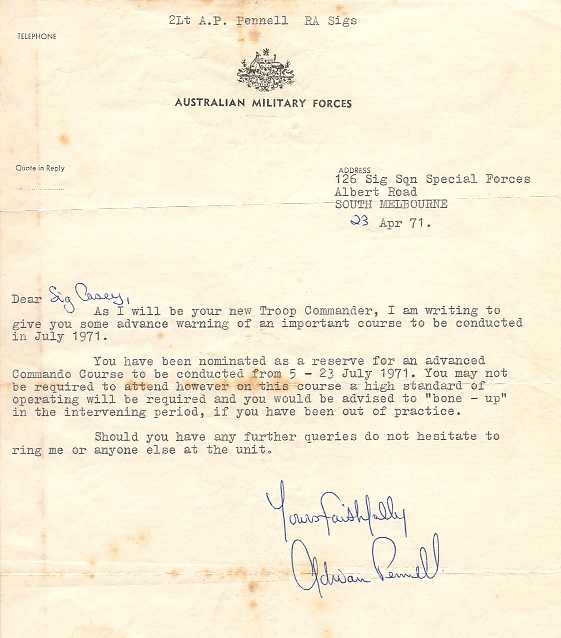 What a joke this letter was. I received it in early May '71, and as you can see it advises me that I am a reserve for a course due to start on 5 July '71.
There are several major flaws in this premise, the main one being the fact that I didn't even leave Vietnam until July 8th, and then on RTA I went on four weeks leave. Secondly does anybody know of any lowly Lance Corporal who could just reach for a phone and call Australia? If so I'd love to meet them. And lastly I could have sworn that we were in the middle of a little thing called the Vietnam War, and if I didn't know my trade then the people around me were in deep doggie-doo!!
Ten days after I arrived back in Australia I married my wife and we then proceeded to Tasmania on our honeymoon for a fortnight.
On the third day there I received a telegram from my new unit informing me that I was to report in 24 hours to Williamtown in New South Wales (two States and quite a distance away for those overseas visitors) for a parachute course.
My parents in Melbourne were the only ones who knew where we were, and apparently the original telegram had been sent to their address which is the one I gave for my leave address. When the first telegram arrived my father rang the unit and advised them of the situation. He was told not to worry about it and that they would schedule me for the first course after my leave, but they needed my current address to inform me of that fact. Then they proceeded to send me the exact same telegram.
When I rang the unit and explained the situation myself (mainly that I was doing enough jumping as it was and that I wasn't stopping that pleasure for anybody at that precise moment) they told me likewise that I'd be on the next course.
When I did eventually report in to my new unit (to which I'd been posted as an acting-Sergeant instead of a Lance Corporal) I was informed that I'd been reposted because "I had refused to go on two courses to which I'd been assigned."
If you've never seen a stunned mullet you would have on that day, because I couldn't believe what was happening to me. Talk about a typical Army clusterf..k!
The end result was that I lost my acting rank and was reposted to 2 Sig Regiment at lovely Watsonia where my Army career in Signals had begun several years before. (I believe that they still owe me some four weeks acting Sergeant pay to this day) Thank heaven I was only there for twelve months before they banished my arse to New Guinea. We indeed enjoyed ourselves up there, as those who were posted there with me can attest!!