KIWI PAGES FROM THE LAND OF 'THE LONG WHITE CLOUD'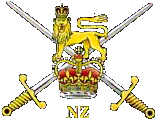 This is the only Kiwi site I presently have information on, but I'm sure there are some more out there.
If you know of any then how about dropping me an email and I'll look into them and include them here.


New Zealand Artillery of the Vietnam War
161 Battery

Those who gave their all

Victor Company
Royal New Zealand Infantry Regiment
Vietnam 1967

New Zealand Permanent Force Old Comrades Assn.